THIS PAGE IS DEDICATED TO MY BEST FRIEND AND SOULBOND: THOUGHTCRIMES.
I'm going to fill it with cool stuff that reminds me of her and gush about how cool she is you should also go see her web page:

we met almost seven years ago -- and when we hit the seven years our friendship will upgrade from "soulbond" to "lifelock." i am very much looking forward to it because I love her more than anything else on this whole shitstain of an earth. you only meet a few genuinely special people in this life, and i don't deserve this one at all, but she sticks around regardless. she is the moon to my sun and the sun to my moon!!!!

this is our song!!!!!!

she wants a coat made of my leather, my fur, my naaaaails.

these dogs are us!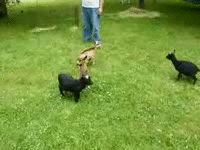 she loves goats and goat men! I'm more partial to reptiles and reptile men, myself.
she loves the movie
so much and sharks. so here are some sharks for her (and you) to enjoy.